HPMI Research Wins the Zonta International Amelia Earhart Fellowship
---
HPMI Research Wins the Zonta International Amelia Earhart Fellowship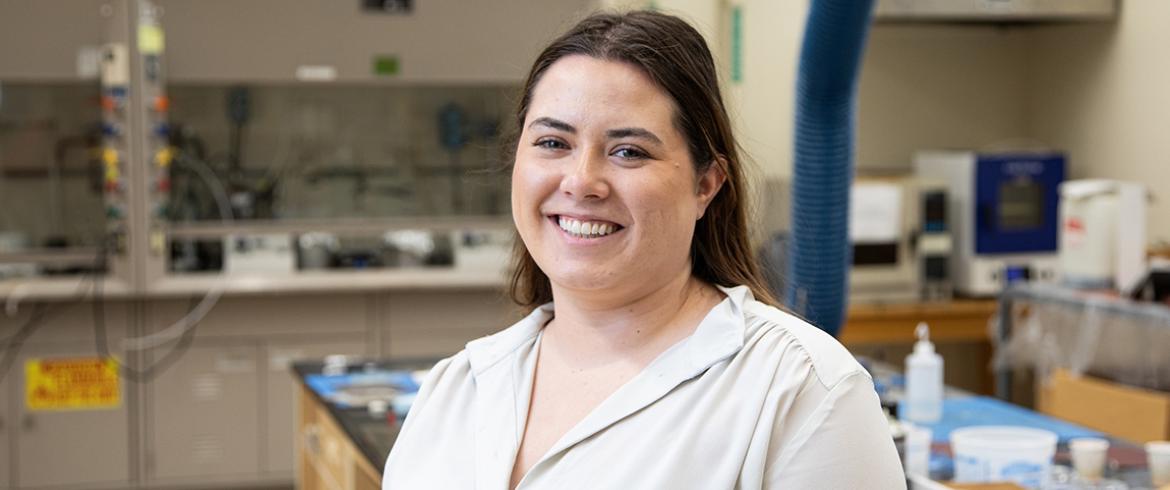 Aspen Reyes, an industrial and manufacturing engineering doctoral student at the FAMU-FSU College of Engineering and Florida A&M University, recently received the Zonta International Amelia Earhart Fellowship. (M Wallheiser/FAMU-FSU Engineering)
A Florida A&M University graduate student at the FAMU-FSU College of Engineering is one of 30 talented women chosen from across the globe to receive the Zonta International 2023 Amelia Earhart Fellowship.
Aspen Reyes, an industrial and manufacturing engineering doctoral student and High-Performance Materials Institute (HPMI) researcher, received a $10,000 fellowship. She is the college's fifth recipient of the fellowship and the third from HPMI over the past 10 years. 
"It was really exciting and still feels slightly unreal to find out I was awarded a fellowship," Reyes said. "The scholarship is great to have, especially in grad school, but it is amazing to know that someone supports you and your research and thinks that can make a meaningful contribution to the aerospace industry."
Reyes is excited by her work and believes it can change the world. "It is an entirely different feeling when an esteemed organization dedicated to women in space sciences also believes in my potential," Reyes said.
Materials for Aerospace
"My research primarily focuses on developing composite materials with boron nitride nanotubes (BNNTs) for high-temperature applications because they have outstanding mechanical properties and high thermal stability," Reyes explained. 
The research group she's a part of published the first study on the degradation of BNNTs in inert environments. 
A recent experiment exposed BNNT/carbon fiber composites to a jet plume at the college's Florida Center for Advanced Aero-Propulsion (FCAAP) to simulate the high-temperature, high-pressure environment vehicles experience during reentry to the atmosphere. This allowed the team to evaluate the potential of the material as a thermal protection system.
Reyes plans to work with Sandia National Labs on characterizing ceramic particle-filled composites for other high-temperature applications. Rebekah Sweat, an assistant professor in industrial and manufacturing at the FAMU-FSU College of Engineering, is her mentor and faculty advisor.
"Aspen's innovative work with composite materials under extreme conditions has transformative potential in tackling aerospace challenges," Sweat said. "Her exceptional research contributions make her a pioneer in harsh environment materials and a perfect recipient for the Zonta Amelia Earhart Fellowship, an award that will further equip her to shape the future of science and engineering."
Zonta International strives to empower women worldwide to achieve their full potential. It was established in 1938 to honor the famed pilot and Zontian, Amelia Earhart. The award assists women pursuing aerospace and other aerospace-related sciences and engineering.