Socat
The U.S. Dept. of Veterans Affairs recently selected Florida State University and HPMI to lead a $4,400,000 project to develop comfortable lightweight, multifunctional sockets for prosthetic limbs. Read the announcement here.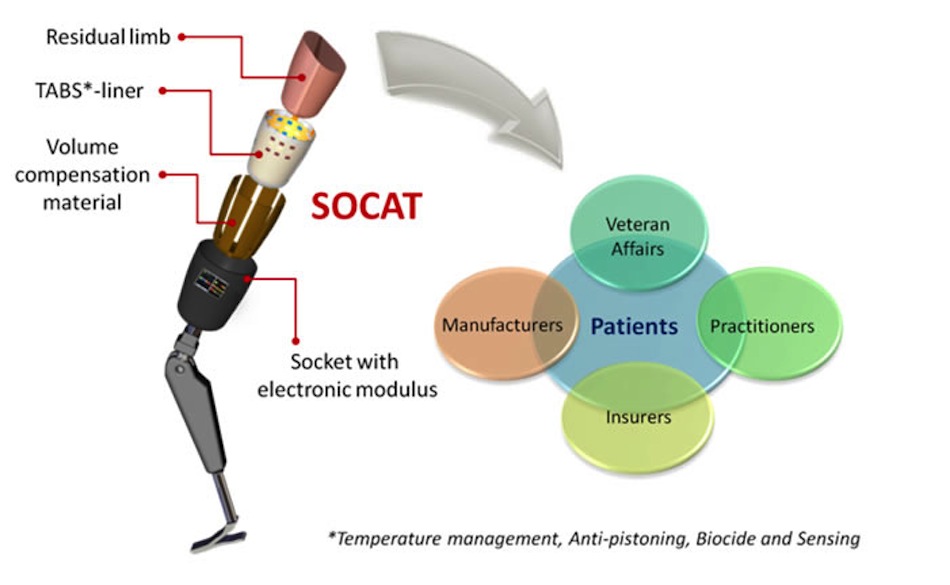 Developing the next generation above-knee socket systems leveraging innovative materials, advanced manufacturing technology and holistic system approach
Enabling more fulfilling lives for amputee patients by providing unprecedented comfort,  functionality, mobility and efficient energy expenditure
KEY CAPABILITIES
"On-demand" autonomous volume change management
Effective pistoning control
Minimal septic skin reactions from wearing the socket for extended periods
Intelligent skin temperature control
Real-time sensing of socket/liner environment
Onboard diagnostics for situation awareness for patient safety and comfort
Export of diagnostic data for evidence-driven patient care
MILESTONES
| | |
| --- | --- |
| The SOCAT team of engineers has produced a light-weight material that autonomously expands and contracts with a patient's limb as it changes in volume throughout the day. This advancement should eliminate the need to continuously add and remove additional socks during the day and provides increased damping and cushioning for additional comfort. | |
THE SOCAT APPROACH
Volume Change Management
Real-time  autonomous volume change accommodation with biocompatible auxetic foam  for needed space and comfortable fit
Dampening  and cushioning for additional comfort
Auxetic Materials
Click the image above to see the video.

 

 Click the images above to see anitmation.




 
Socket Environment Monitoring and Situation Awareness